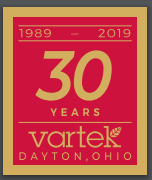 When Vartek started providing technology support to schools in 1989, the classroom computer was often just that: the classroom computer. Students took turns using one terminal at the back of the room, maybe a couple times a week, and then went back to their pencils and paper.

By 2009, the ratio of computers to students in K-12 schools was down to three to one, according to the National Center for Education Statistics. Now, it's not uncommon for every student in a school to have access to a non-shared device.

For thirty years Vartek has led schools through this dramatic digital evolution, researching new trends in the field and gathering best practices that enhance student achievement through technology. Those best practices allow us to support more than 70,000 students and teachers and 80,000 devices every day, as we focus exclusively on empowering schools to create the learning environments they envision. Here are some of the guiding principles we've discovered over the last three decades:

Make decisions about technology based on educational goals, not the other way around.
Follow the trends, not the fads.
Give teachers and students ongoing integration support and training. You'll get a bigger return on your technology dollars if you do.
Keep devices and infrastructure current—this means planning and budgeting to replace items every five years or so.
Invest in a skilled tech support team—one that can handle everything from daily troubleshooting to cybersecurity monitoring to strategic IT planning.
Push past the status quo. The way technology always has been done won't be the way it always will be done.
For more information on the support Vartek gives its partner schools, check out "Just the Facts: 10 things you should know about Education's IT Partner."

Technology in the classroom is no longer the exception. It's the rule. Vartek can help you follow it. Call 800.954.2424 to learn more today.