Computer science jobs are the jobs of the future – the extremely close future.

The Bureau of Labor Statistics projects that by 2026 computer science employment will increase nineteen percent—compared with an average increase of only seven percent for other jobs.
So, if for no other reason than it's critical to prepare students for careers in rapidly growing fields, your school should be making computer science education a key part of the curriculum.

But there are other reasons to do it.

Computer science isn't about just engineering and programming. The critical and creative thinking skills that students develop in computer science lessons are applicable to all careers, from education to medicine to politics.

Offering—even requiring—computer science classes also positions you as a forward-thinking school and one that values helping students develop a deeper understanding of technology. We live in an increasingly digital world, and it's critical that we know how technology works so that we can use it effectively and responsibly and recognize when others aren't.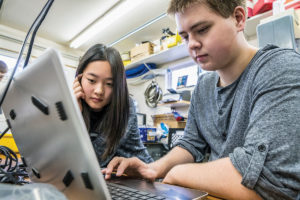 Despite clear evidence that computer science curriculum should be as standard as math and history, fewer than one in three teachers and administrators say computer science is a top priority in their school or district, according to a recent Gallup survey of K12 schools. Fewer than fifty percent say their school board thinks it is important to offer computer science education.

Why not?
The top reasons for this lack of focus on computer science, according to the study, are the limited time schools have for classes that aren't tied to testing requirements and a lack of instructors qualified to teach it.

No doubt, the bias toward standardized test-related subjects is strong. But you can't ignore the stats about where the bulk of the new jobs are, and schools must educate students to be ready for careers that will be waiting for them when they graduate.

And we'll never have enough qualified computer science instructors unless we start introducing the science to kids now so that they can develop the interest and skills that will allow them to become competent enough to teach it.

Also, your students' families will support a decision to teach more computer science. The Gallup study says that a whopping ninety-three percent of parents feel that opportunities to learn computer science are a good use of school resources.

Computer Science Resources
Speaking of resources, chances are your school has more than you realize it does to start building a solid computer science program.

First, your student computer count is probably higher than it's ever been. The 2018-2019 Consortium for School Networking (CoSN) infrastructure study indicates that sixty percent of high school students and sixty-three percent of middle school students in the United States have access to a personal device at school—an increase over the prior year of about six percentage points for both groups. Overall, about half of classrooms have a 1:1 device environment, CoSN researchers found, and these numbers are expected to improve over the next three years.

Second, there are free curricular resources online that come complete with multi-part lesson plans. Check out CS First and Hour of Code for tech-oriented content that even teachers whose first expertise isn't technology can easily use.

Consider working with a technology integration expert as you develop your computer science offerings. He or she can help you set the right educational goals and choose the right tools and materials to create a meaningful technology curriculum. Such specialists often are part of a larger team that can ensure a school's overall IT environment is strong.

Your students depend on you to give them what they need today to be successful tomorrow. Give them the computer science advantage.

Vartek is a strategic partner for schools, providing dependable, tailored support so that educators can create the learning environments they envision. Call us at 800-954-2524 to learn more.